Florida's furry arts and performance convention is back for another spin, and this time, we're bringing the fun to the First Coast! Megaplex 2007 will be held on March 2-4, 2007, at the Wyndham Jacksonville Riverwalk, in Jacksonville, Florida.
We're getting closer and closer! Here's the latest news!
PRE-REG CLOSING SOON!
If you haven't pre-registered for the convention, time is running out! Not only will it be more expensive at the door, but you may miss out on a special premium we're offering our members this year, as a thank you for all of your support.
We're going to be handing out special Megaplex 2007 MUGS! These glass mugs are great for your favourite beverage...and, they'll feature a special design by Herbie! However, we'll be judging how many mugs to order by the number of pre-registrations we get. If you pre-reg, you *will* get a mug. If you register at the con, we may or may not have any left...so, if you want to guarantee yourself one of these special keepsakes, pre-reg now!
Head to
http://ppmp.info/mp06/reg.php
and register now! We'll be closing pre-reg on February 19th (the day after Furry Weekend Atlanta ends).
T-SHIRTS GALORE!
While you're pre-registering, why not grab yourself one of our official Megaplex 2007 t-shirts! The shirts will be light grey, and feature artwork by our guest of honour, Mike Kazaleh!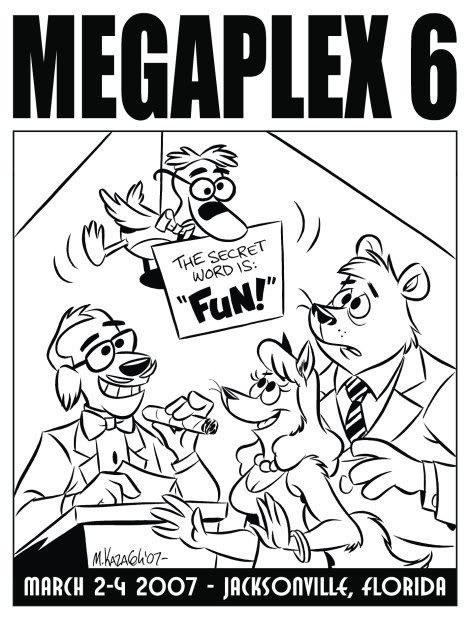 T-shirts are only $12 for sizes S-2XL. By pre-ordering, you will guarantee yourself a shirt - and the shirts will be more expensive at the con, as well as available only in limited numbers. We went through our remaining inventory of 2006 shirts in something like five minutes once the extras went on sale - don't miss out this year!
LET'S MAKE A DEAL(er's Room)!
Also, if you want to get a dealer's room table, you can take care of that when you register, as well! Tables are still available, first come first served, for $40 a table (limit 2).
NOTE : If you are registered dealer and have *not* received a message from Carl Fox with important information, please contact him directly on mp-ceo@pawpet.org.
ALSO : If you have already pre-registered and want a t-shirt or dealer's table now, contact mp-registration@pawpet.org or mp-ceo@pawpet.org for assistance. We'll make sure you're counted properly!
LET'S MEET OUR GUEST OF HONOUR!
Megaplex 2007 is happy to announce that Mike Kazaleh will be joining us as Guest of Honour this year! Mike is a professional animator and comics artist; old-school furry fans will remember his comics work on "The Adventures of Captain Jack" (Fantagraphics), and "Mean Green Bondo Machine" and "The Suit" (MU Press). He has also drawn "Ren and Stimpy" for Marvel, "Cow and Chicken" for DC Comics, and "The Mighty Mutanimals" for Archie Comics, and is currently working on "Futurama" for Bongo Comics and "Camp Lazlo" for DC.
Animation-wise, his credits include "The New Adventures of Mighty Mouse", "Tiny Toon Adventures", and "The Simpsons"; more recently, he has worked on "Krypto the Superdog", "Johnny Test", and "Hi Hi Puffy Ami Yumi". He was also a storyboard artist for the recent release, "The Ant Bully".
Please join us in welcoming Mike to Megaplex 2007!
CARE IS BACK...
...and we're happy, as always, to support the fine work they do helping rescue animals in Central Florida. We'll be having our charity auction again this year. If you have items you'd like to donate to help us raise money for C.A.R.E., contact Carl Fox at mp-ceo@pawpet.org.
WHAT'S BEHIND DOOR
#1
?
It's time to play! This year, we're working up a Game Show theme that is sure to entertain...especially with our members at the contestants! Keep an eye on the Events page at
http://www.ppmp.info
for more details on the specific games, and how you can play! There'll be fursuit-specific games, as well as games for all our members to join in on.
It wouldn't be a game show theme without the return of a crowd favourite - the Gong Show! Our annual variety-show-with-a-twist is always entertaining...play along, even if your act isn't that great; sometimes it's better to perform and have been gonged than never to have performed at all! Contact Josh Strom at mp-variety@pawpet.org if you'd like to perform in the show.
Whose Line Is It Anyway? Our improvisational stars', that's who...and that could include you! The improv returns for another spin in 2007.
Megaplex also welcomes the return of a couple of guys who always keep us in stitches - Uncle Kage, and 2, the Ranting Gryphon will be back for 2007, with their unique stories and comedy. Kage and 2 often test out new material for Anthrocon here first, so come hear what's up!
DJ Rory will be with us, as well, spinning the tunes for a fursuit-friendly dance! That's only one of the dances we'll have this year...and (weather permitting) we'll be dancing on outside deck, overlooking the St. Johns River!
There'll be mystery amongst the merriment...here's a hint. You'll want to be at the Opening Ceremonies this year... ;)
For our fursuiting and puppeteering members, Santa Fox is working those tracks this year. If you enjoy what he has planned at FWA, you'll *love* what we'll be doing at Megaplex!
Plus, we'll be bringing back the late-night showing of the Rocky Horror Picture Show, a smash hit from 2006! (Yes, we're bending the rating a little for this one - badges will be checked at the door, and no minor badges will be admitted.)
If you have any other ideas for a panel or event that fits into our theme for 2007, drop John Cole a line at mp-programming@pawpet.org . We want your feedback on exactly what you want to see at the convention, and we want to get with folks who would like to run said panels and events. Megaplex is ultimately the members' convention, so help make it the best it can be!
We're always on the lookout for volunteers, as well. Drop us a note if you'd like to help out in March.
HAVE YOU VISITED THE WEBSITE LATELY?
What can you do on
http://www.ppmp.info/
? Well, you can register for the convention, order your con t-shirt, reserve your dealer's room table(s), and purchase con book advertisements and personals! Not to mention, we'll be updating the site regularly with news and notes to get you ready for the con.
Also, keep an eye on our "megaplex" community on LiveJournal, for additional information from not only the staff of Megaplex, but our members as well! That site is
http://megaplex.livejournal.com/
.
STAY TUNED!
Keep an eye on
http://www.ppmp.info/
and
http://megaplex.livejournal.com/
for the latest news and information, and please do not hesitate to drop us a line at megaplex-feedback@pawpet.org (or to the chairman directly at mp-ceo@pawpet.org) if you have suggestions or questions regarding the convention.
Also, please join our dedicated mailing list for Megaplex! Information on joining can be found at
http://lists.pawpet.org/mailman/listinfo/megaplex-list
.
Hope to see you at Megaplex 2007!